Radar - SKALE
Become a full Formal Verification member and receive complete research and member-only bonus content. Get full access for $10/month or $100/year.
---
SKALE
SKALE is a security and execution layer for dApps running on Ethereum. It was recently announced that the mainnet will launch on June 30th.
There are 4 aspects to SKALE that particularly deserve attention on your radar:
Extensive 'elastic' sidechain configuration

Use of BLS signatures

Deployment of Proof-of-Use for its token launch

Its positioning within the wider ecosystem
Novel Architecture
For those unfamiliar with the network design, SKALE is a network of interoperable proof-of-stake elastic sidechains. Chains are 'elastic' because they are highly configurable with regards to size, duration, VM, storage capacity, as well as the number of nodes securing the chain. SKALE utilises a work token model. SKALE tokens are staked by validators as well as used in its subscription model when chains are created.
When choosing chain size for example, developers are effectively determining how much of a single node's resources they want securing its chain. Small chains (where a chain takes 1/128th of a node's resources) can cater for smaller non-critical dApps while large chains (using 100% of a node's resources) can target dApps that have larger user bases and require higher throughput capabilities. The number of validator nodes themselves is also customisable allowing any configuration of is 3n+1 where n>=1.
SKALE makes use of BLS signatures that provides a potentially fruitful alternative to scaling network transaction rates without requiring user monitoring, wait periods, or dispute resolution (which can be the case with certain Fraud Proofs set ups). But the most intriguing aspect to the addition of BLS Signatures is that it applies to many facets of the network - it can also facilitate fast but secure interchain messaging between SKALE chains through each chain's group signature, providing the desired interoperability within the network itself.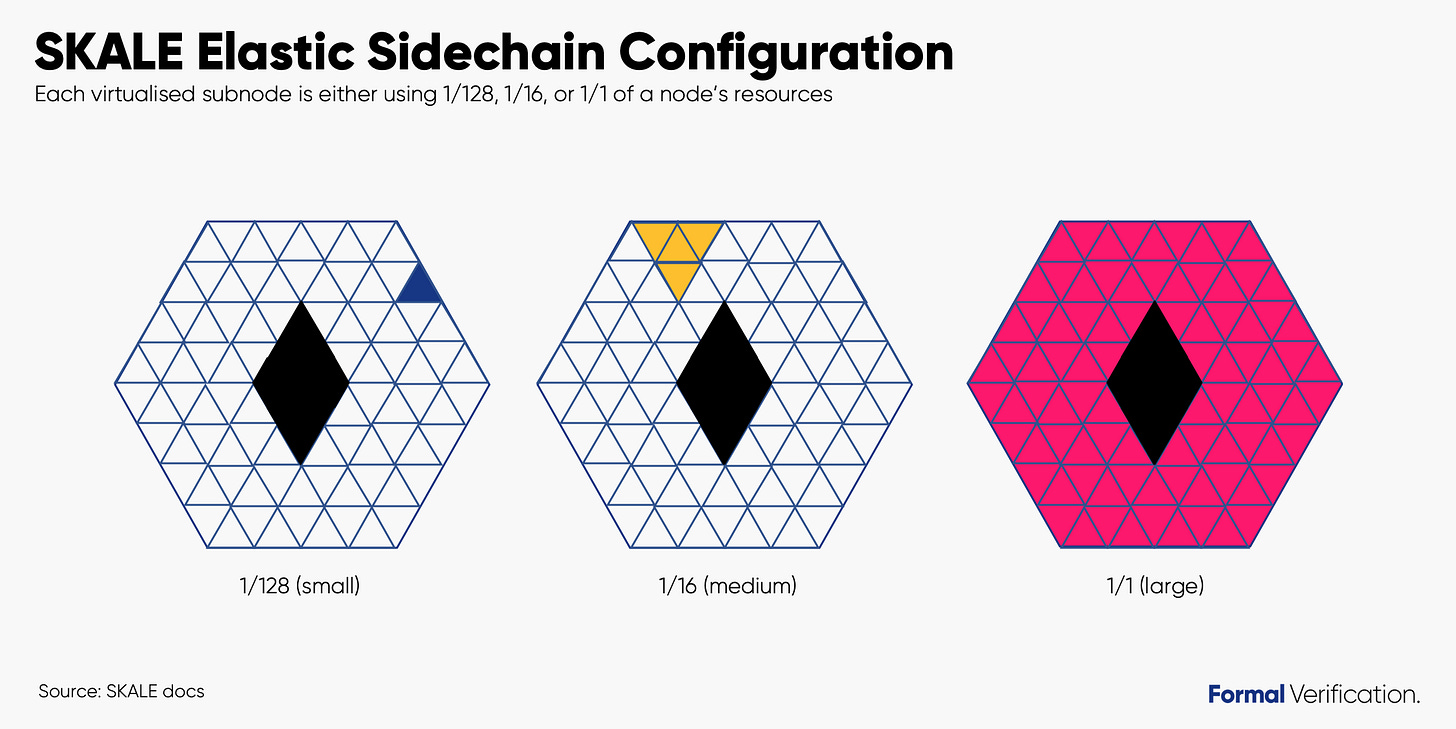 Proof-of-Use
SKALE will be the first token launch on Consensys' new Activate platform. Following on from Consensys' Token Foundry standards, there is now a requirement for prospective token buyers to also become active participants in the network through its 90 days Proof-of-Use period.
---
About Formal Verification
Institutional-grade digital asset research
Formal Verification offers both key and concise data analysis and ecosystem research for decentralised networks and digital assets so you can be attuned to the absolute key developments both on and off the chain.
Become a full Formal Verification member and receive complete research and member-only bonus content. Get full access for $10/month or $100/year.
Formal Verification research is not investment advice and is strictly for informational purposes only. Please conduct your own research.