In The Week
Balancer, Kyber, Curve, Ampleforth, Nexus Mutual
You're on the free list for Formal Verification research. Join the other Formal Verification members today and receive complete research and member-only bonus content.
---
Spotlight 🔎
Balancer
Liquidity mining continues to encourage LP contribution to the network as its BAL governance token goes live on mainnet.
After 3 weeks of BAL token distribution, LPs have received a total of 435k BAL (with 145k BAL distributed each week) so far with the BAL price climbing above $22 on the 24th June. As a refresher, pools are weighed according to their fee percentage rewarding lower fee pools for encouraging greater protocol usage than pools with higher fees.
The Formally Verified Take
What's clear is that (at least in the initial stages) Balancer's liquidity mining has been successful in attracting contributions to its platform both on the supply and demand side. What most people often don't fully realise is the idea that liquidity mining is effectively token distribution model. From this perspective, what's interesting to note is the high concentration of BAL distribution to the top 5 LP (by contribution) which collectively earned 40% of total number of BAL distributed to date. The top contributor has over 1/5 of the total rewards distributed.

Looking at the supply side in more detail, the network now has over $100 million contributed by LPs. As we pointed out earlier this month, Balancer was on track to overtake the combined liquidity of Uniswap V1 and V2. This week, the recent influx of contributions to Balancer has meant the network now has 66% of the combined liquidity with Uniswap. Inflows will likely continue as more projects like Ren and Synthetix incorporate Balancer in their own liquidity mining initiatives (more on this later).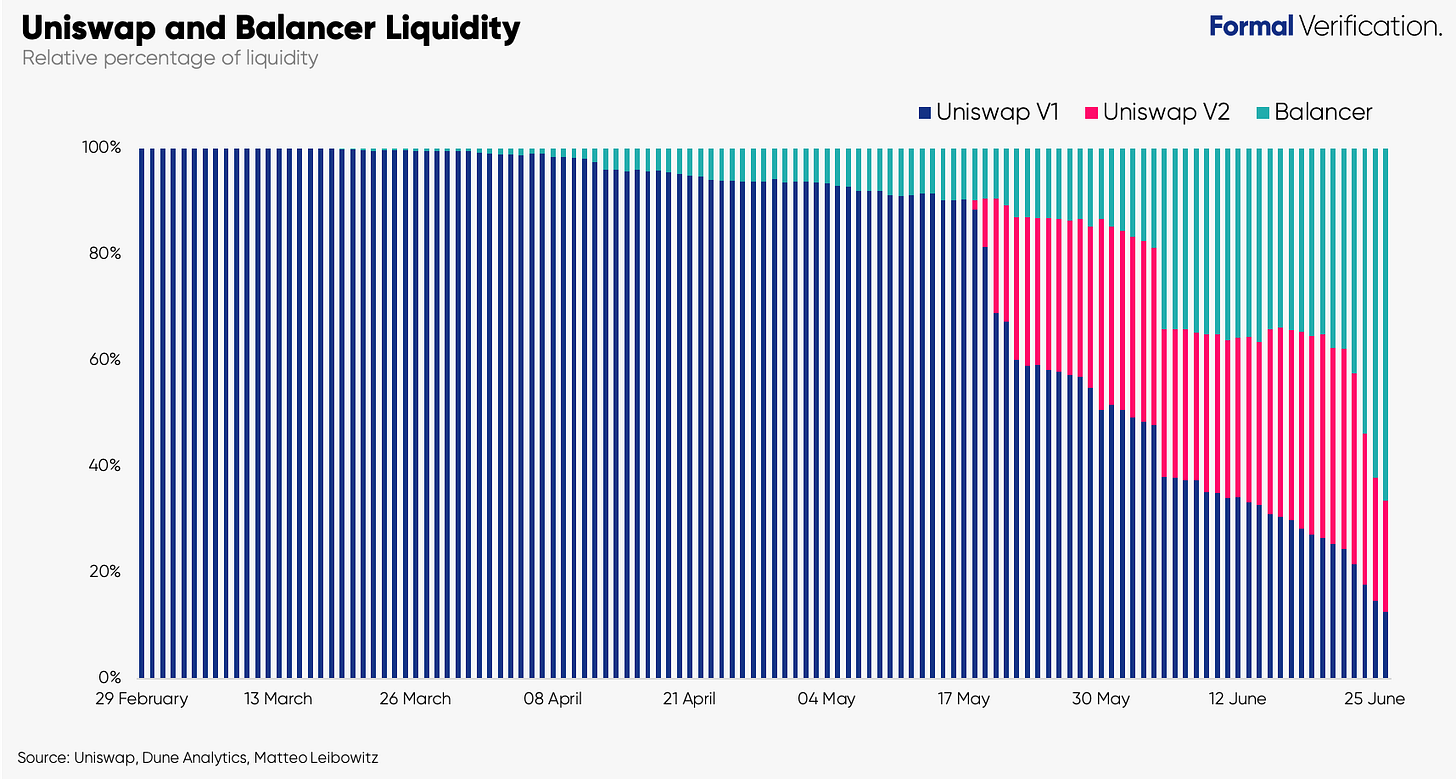 The increase liquidity provision has also come with a corresponding surge in the number of LPs coming to the network - we are starting to see an increasingly diverse set of unique LPs being entering the network. There were 436 LPs joining the network on Wednesday alone, a sharp increase from the 40-60 typically seen in the prior 2 weeks. There has equally been an increase in the demand side with regards to volume with $19 million being traded in the last 3 days.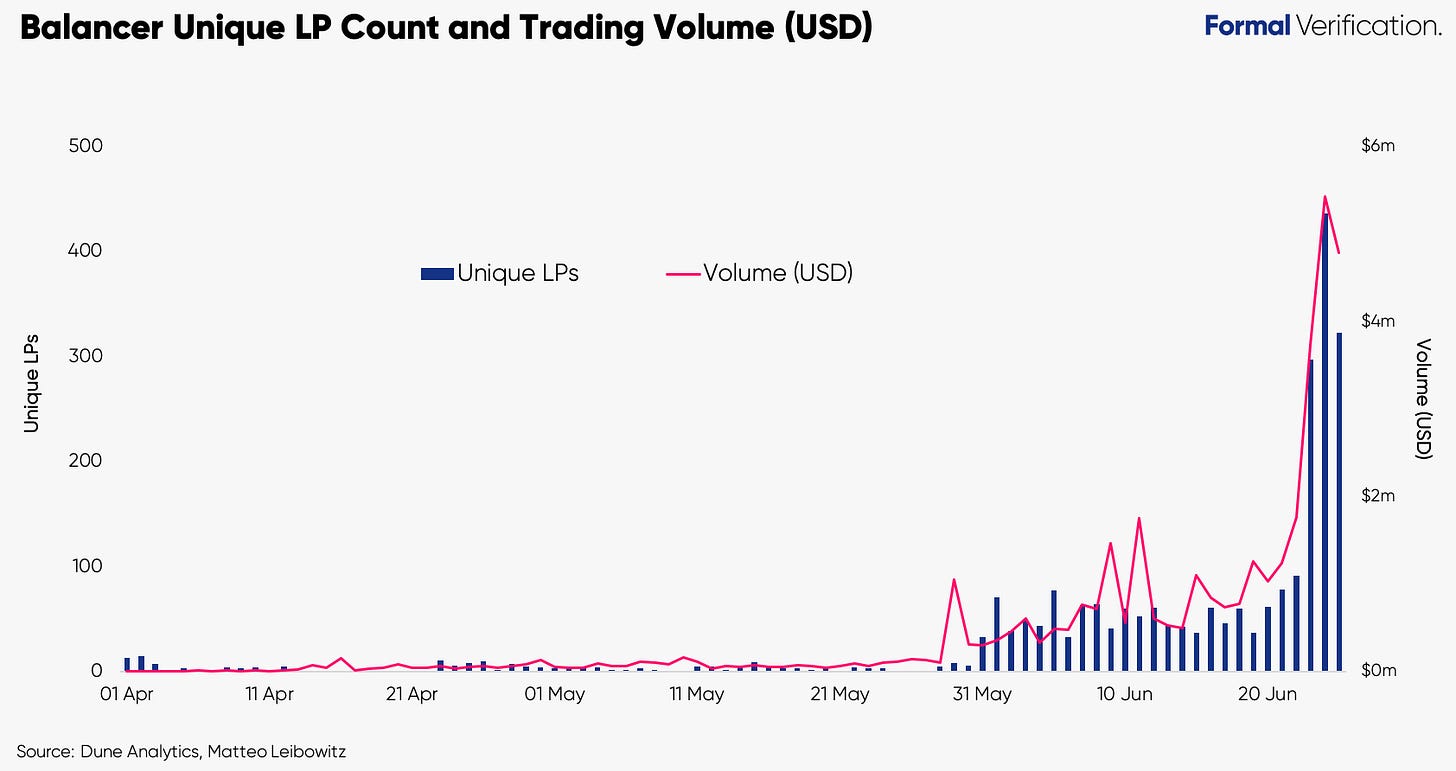 With the BAL rewards taking into consideration a pool's feeFactor, trading on Balancer may become increasingly attractive if pools start competing with one another to maximise their BAL yield. While fees for Balancer pools seems to follow a power law distribution, the average fees across the pools is currently 0.54% but we may start to see that reduce over time potentially driving further volume on the network.
---
Quick Takes ⚡️
Kyber
Kyber's Pre-DAO Poll to determine initial reward distribution parameters for Katalyst is near completion.
---
Help Build Decentralised Networks 🌍
Formally verified Web 3.0 roles are available for full Formal Verification members.
---
Formal Verification Deal Sheet 🤝
Formal Verification is proud to have partnered with some of the leading crypto companies. The deal sheet is now available to see for full Formal Verification members here.
---
Formal Verification research is not investment advice and is strictly for informational purposes only. Please conduct your own research.