In The Week
Kyber, CENTRE, Terra, Ampleforth, Compound
Spotlight 🔎
Kyber
KyberDAO goes live with Katalyst upgrade.
The launch of Katalyst on mainnet means that KNC holders are able to start staking to the KyberDAO in order to receive their portion of network fees allocated to rewards. The recent community poll set the initial voting rewards at 65% (with 30% of fees used for Reserve rebates and 5% to be burned). As mentioned in previous issues, rewards are calculated based on voting participation but more passive stakers are able to delegate their assets to Kyber community pools. Epoch 0 will only last 1 week, but each epoch thereafter will represent a 2 week period.
The Formally Verified Take
The first thing to be made aware of is that the total fees collected during Epoch 0 (the launch epoch) will not be distributed out to KNC stakers but instead be burned. When Kyber moves beyond its launch Epoch however, its Fee Handler will capitalise on Chainlink' KNC/ETH price feeds.
Although having only been live for 3 days, there has already been a steady growth in the number of KNC staked to the DAO through both direct staking and delegating. Overall, there are just over 13m KNC staked which represents a little over 7% of the total circulating supply. This will likely continue trending higher in the coming days as users realise they only have a 3 days in which they can become eligible to vote in the next epoch (1) and therefore start receiving rewards in Epoch 2. Of course, the second order effect of increased participation from other KNC holders in the DAO being that voting rewards on a per KNC basis decreases all else being equal.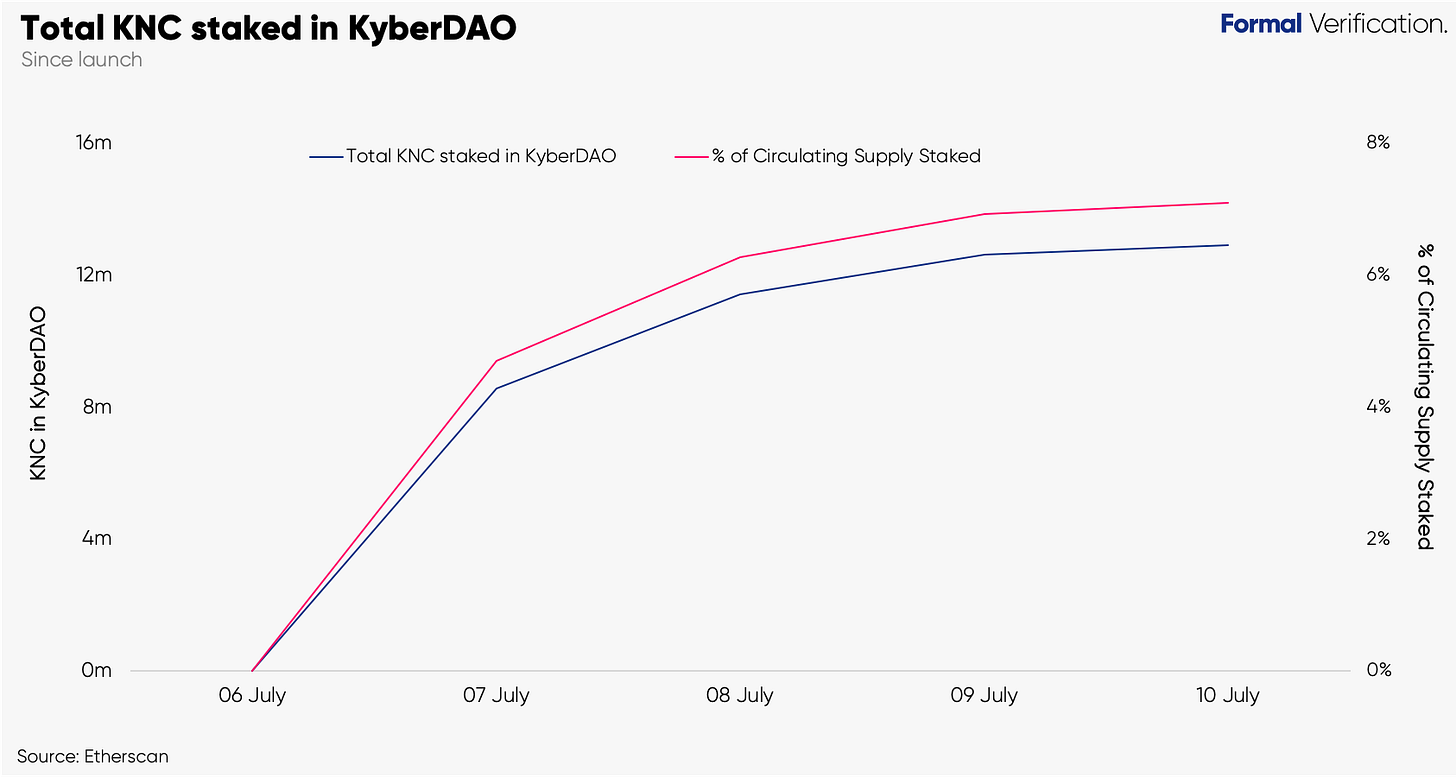 Using the numbers so far, we can create a hypothetical projection of how KNC fees accumulated so far would distributed if the Epoch 0 weren't simply burning all collected fees. Staking rewards would current amount to 74.75 ETH (~$18k). The fees collected to reserve rebates would equal 34.5 ETH (~$8k) with just 5.75 ETH (~$1.3k) used to burn KNC. Assuming staking levels stayed static at 13m and all KNC holders all voted, each KNC would be rewarded with $0.0014.
A core responsibility of the KyberDAO and its members will be governing the network's full set of fee parameters. One area that will be worth paying attention to is whether the community will decrease the emphasis on burns over time Will members see a bigger benefit in translating the burn value flows to actual value flows over time? As we see across the ecosystem today, network stakeholders are starting to value cryptocapital assets more than ever, emphasising the importance of rewarding the supply side directly for their contributions.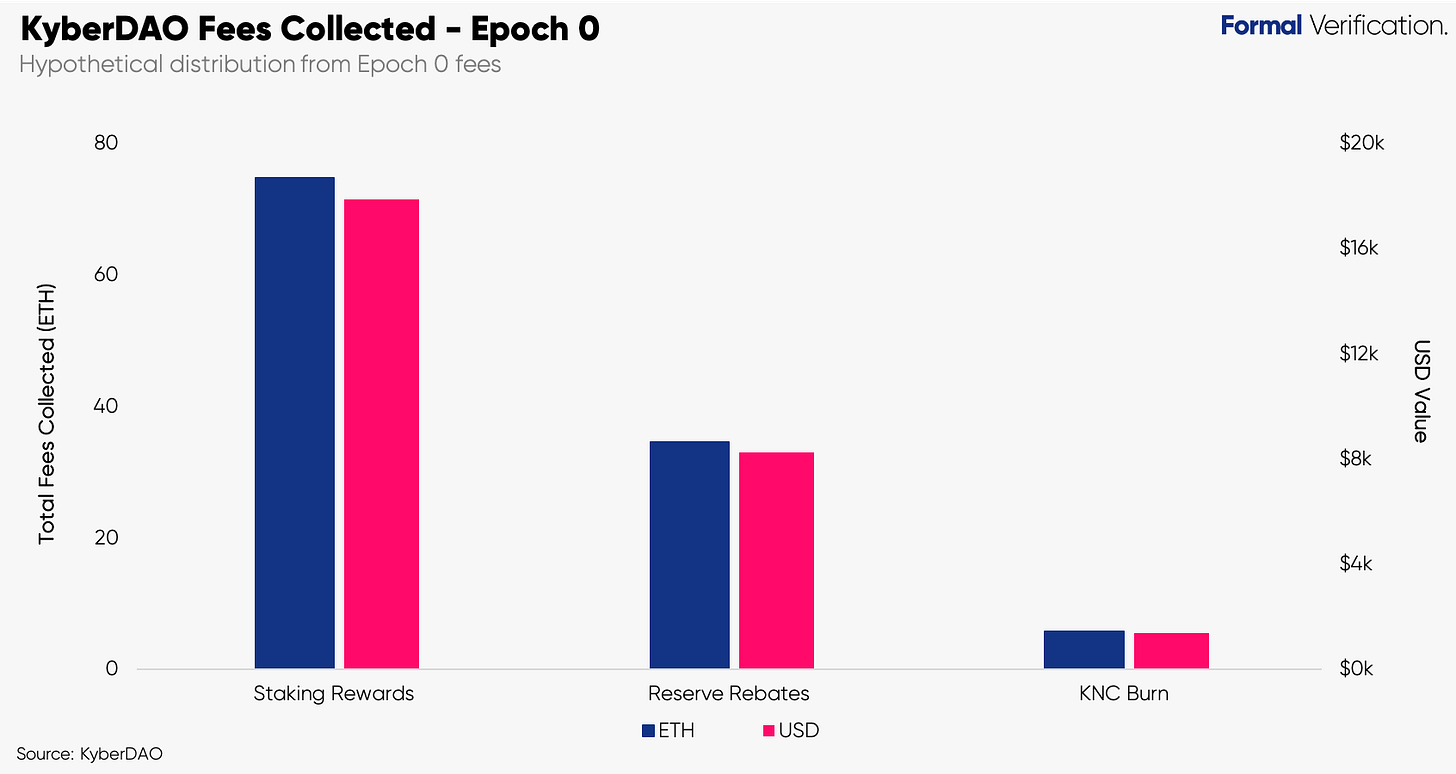 Critically, this applies to both stakers and the Reserves operating on the Kyber Network. As discussed in Formal Verification's Kyber Network analysis a few weeks back, one of the most overlooked aspects was the elimination of fees for Bridge Reserves (e.g. Uniswap, Oasis) in late 2019, so in light of this it is crucial that the KyberDAO members acknowledge the need to encourage liquidity sourcing external to bridge reserves.
---
Quick Takes ⚡️
CENTRE
CENTRE blacklists first address holding 100k USDC.
On June 16th, the issuer of USDC, CENTRE, called a blacklist function on a single address. Blacklisting an address will mean that it will not be able to execute transactions (including receiving) and may mean the funds are unrecoverable indefinitely. The blacklisting came at the request of law enforcements.
The Formally Verified Take
The notion of backdoors for stablecoin issuers should not come as a surprise. Several (centralised) stablecoin issuers have been completely transparent when it comes to implementing special admin rights for the network. Paxos, for example, launched in 2018 with a similar law enforcement backdoor. From their perspective, this was a criterion that had to be met in order for Paxos to be regulated as trust company by the NYDFS.
But what makes this a more interesting event is the timing. Looking at stablecoin supply, USDC has kept in 2nd place trending behind the king - Tether. But since June this year, USDC has grown the most compared to USDT, PAX, and DAI both in terms of number of new coins in circulation (+340m) and percentage increase in circulating supply (+46%). On the one hand, blacklisting might do little to slow down the adoption of USDC but the idea of 'tainted coins' being in scope for future blacklisting is certainly not out of the question. It is unclear as to what administrative policies are in place for use of tainted coins. Moreover, adopting a multi-chain framework for USDC naturally leads to administrative control over USDC being carried over to other chains, such as Algorand.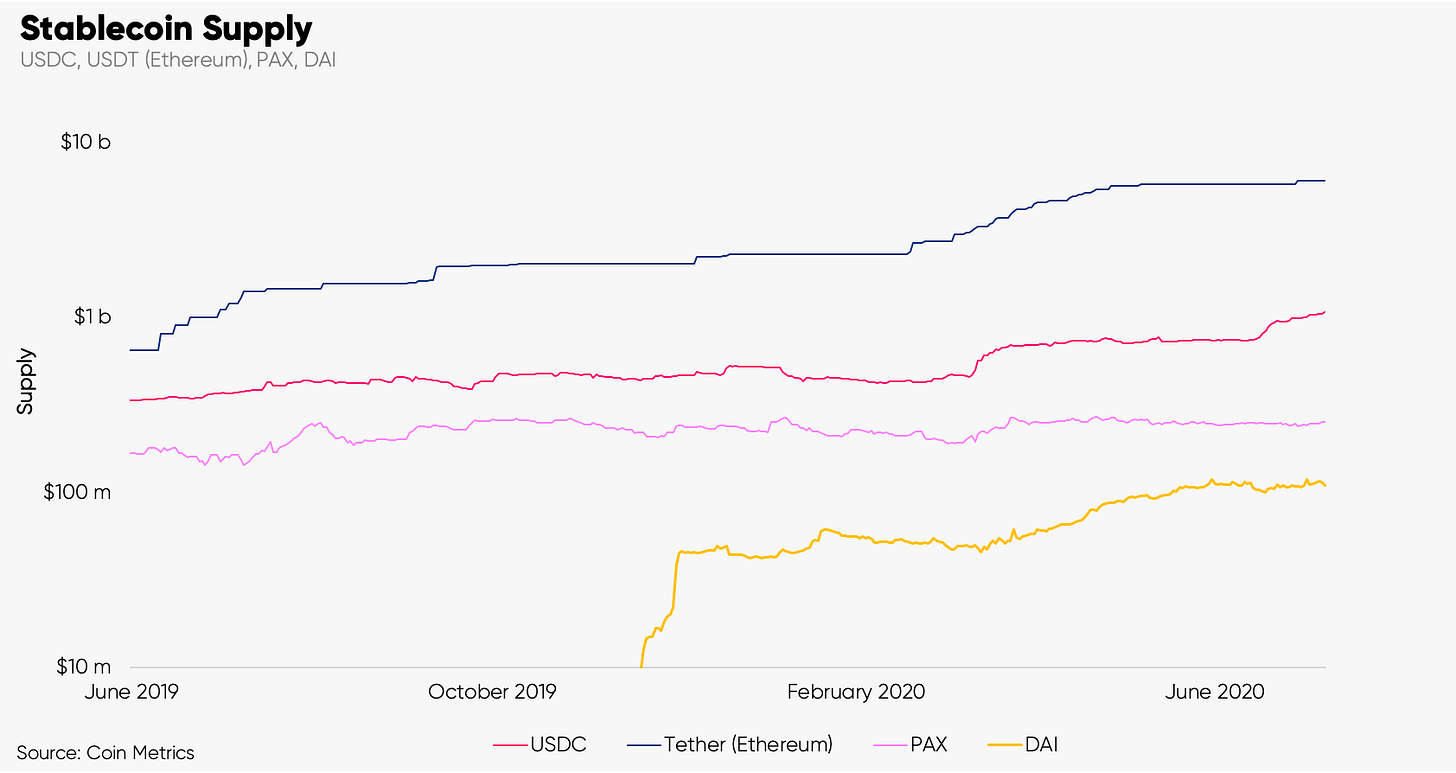 Terra

---
Help Build Decentralised Networks 🌍
Formally verified Web 3.0 roles are available for full Formal Verification members.
---
Formal Verification Deal Sheet 🤝
Formal Verification is proud to have partnered with some of the leading crypto companies. The deal sheet is now available to see for full Formal Verification members here.
---
About Formal Verification
Institutional-grade digital asset research
Formal Verification offers both key and concise data analysis and ecosystem research for decentralised networks and digital assets so you can be attuned to the absolute key developments both on and off the chain.
Become a full Formal Verification member and receive complete research and member-only bonus content. Get full access for $10/month or $100/year.
Formal Verification research is not investment advice and is strictly for informational purposes only. Please conduct your own research. Note, Formal Verification will pause In The Network next week as we work on an extra special report that will be announced soon. Stay tuned.