In The Week
Kyber, Uniswap, Cosmos, MakerDAO, Zcash
This Formal Verification research is free for everyone. Join the other Formal Verification members today and get full access to complete research and member-only bonus content.
Spotlight 🔎
Kyber
KyberDAO's first governance proposal goes live as the Katalyst network moves into Epoch 1.
The first proposal on KyberDAO is live where KNC holders are voting on the allocation of network fees for the next epoch in 11 days time. Specifically, stakers will be able to alter the proportions in which network fees are divvied up between burning, rebates, and rewards. In order to become eligible, users were required to stake their KNC during Epoch 0.
The Formally Verified Take
Building on the Kyber analysis from last week, we can see the effects that the vote has had in throttling staking participation in the DAO. At time of writing, the number of KNC staked has amounted to over 57 million (over 31% of the circulating supply) with a commitment of more than 3.4k unique addresses. An astute reader might have noticed that the period of most growth has actually come after Epoch 0, meaning this recent portion of KNC staked is not able to participate for the first vote and receive collected rewards in Epoch 2. This is probably down to general lack of awareness.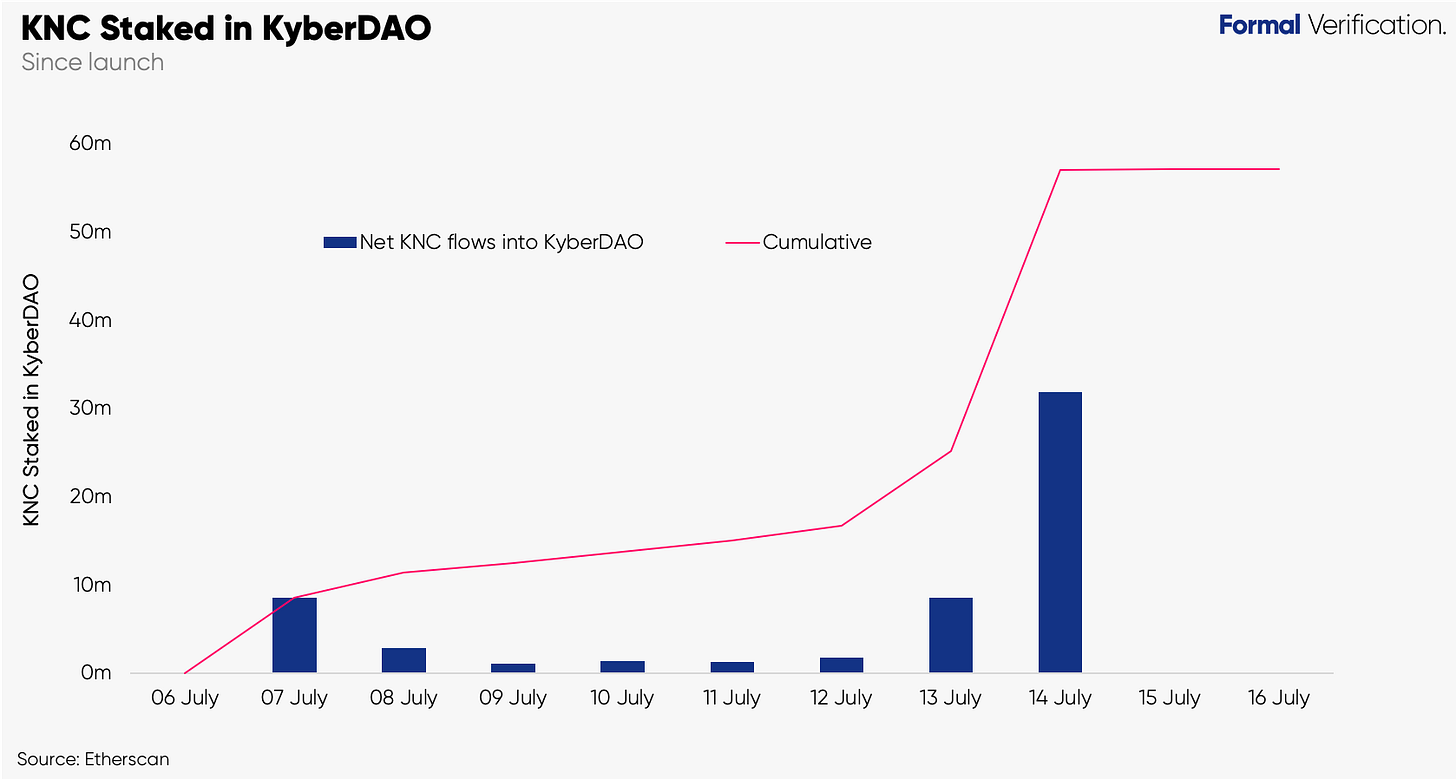 The vote, while relatively simple in its aim, is testing the new Burn, Reward, Rebate (BRR) Proposal Framework on the network. Note, this is separate to the Kyber Improvement Proposal Framework (KIP) which is used for less frequent protocol upgrades. What's particularly unique about the BRR framework is that it necessitates frequent voting - stakers are able to decide whether the network fee structure is kept the same, or whether a new emphasis should be placed on a particular category (i.e. burn, rebate, reward). In other words, the community can increase a single category by 5%, decreasing the other two categories proportionally.
So far, the community is in favour of increasing the reward category (43% of the vote) with pro-burn coming in second. Note, there is no simple majority nor is it needed. Given the current network fee parameters, this favoured revision translates to a 4.3% of fees being burned, 70% going to rewards, and 25.7% used for rebates. This could be an indication of the community generally preferring KNC to take on more of a cryptocapital asset profile by a stronger emphasis of direct value flows.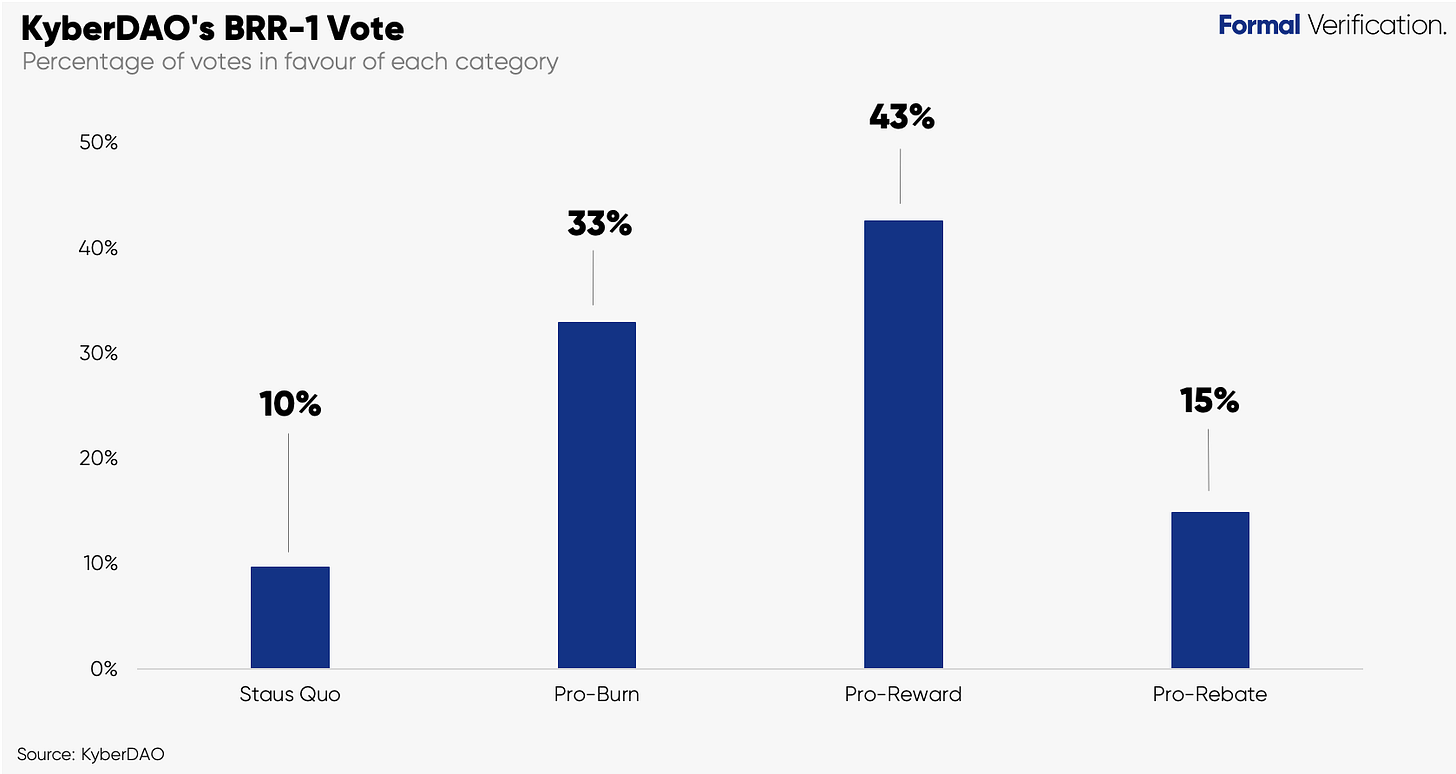 A benefits of necessitating frequent voting through BRR, is that the DAO requires active participation for each Epoch from stakers in order to be eligible for any rewards. The other being the ability for the network to adapt to any environmental pressures that may warrant changes in the protocol (e.g. fees) in order to maintain or strengthen incentive mechanisms for network participants.
However, the BRR may also be a double edged sword. As of right now, the BRR only allows for 5% incremental changes for a single category per epoch. While this might not be an issue right now, being restricted in the degree of change may not be appropriate in the future. After all, drastic situations often calls for drastic measures.
Quick Takes ⚡️
Uniswap
Uniswap V2 records a new ATH in 24hr trading volume of $47.5 million.
Since the launch of V2 in May, daily volume has been rising steadily for the automated liquidity protocol. However, the most recent ATH in volume seen early this week marks a 62% increase from the previous day (previous ATH) with LPs making $135k in fees. This rise in volume also coincides with a rise in liquidity, which is currently at an ATH of $75 million.
The Formally Verified Take
The growth of V2 shouldn't come as a complete surprise given its completely revamped set of features that are designed to incentivise greater adoption of the protocol including the introduction of stablecoin pairs, V2 oracles, flash loans and more.
More recently, Uniswap has been the venue for some liquidity incentive programmes such as Ampleforth's Geyser of which 13% of circulating AMPLs are now staked to receive liquidity rewards. The total contributions by LPs in this pool has, in turn, positively affected volume in the ETH-AMPL pool. Simply overlaying the pool's volume to total V2 volume, we can see that the ETH-AMPL pool has driven a significant portion of the trading volume (more than 30%) in the last week.
Given the dynamics between Ampleforth's and Uniswap's protocol, it was a possibility that volume could be driven from arbitrage opportunities from Ampleforth's rebalancing events. Regardless, this activity has clearly benefitted LPs have seen their Uniswap fees surge. But the large unknown here is what the knock on effects will be once the Geyser rewards run out and weak hands start unwinding the unsustainable bull run for AMPL.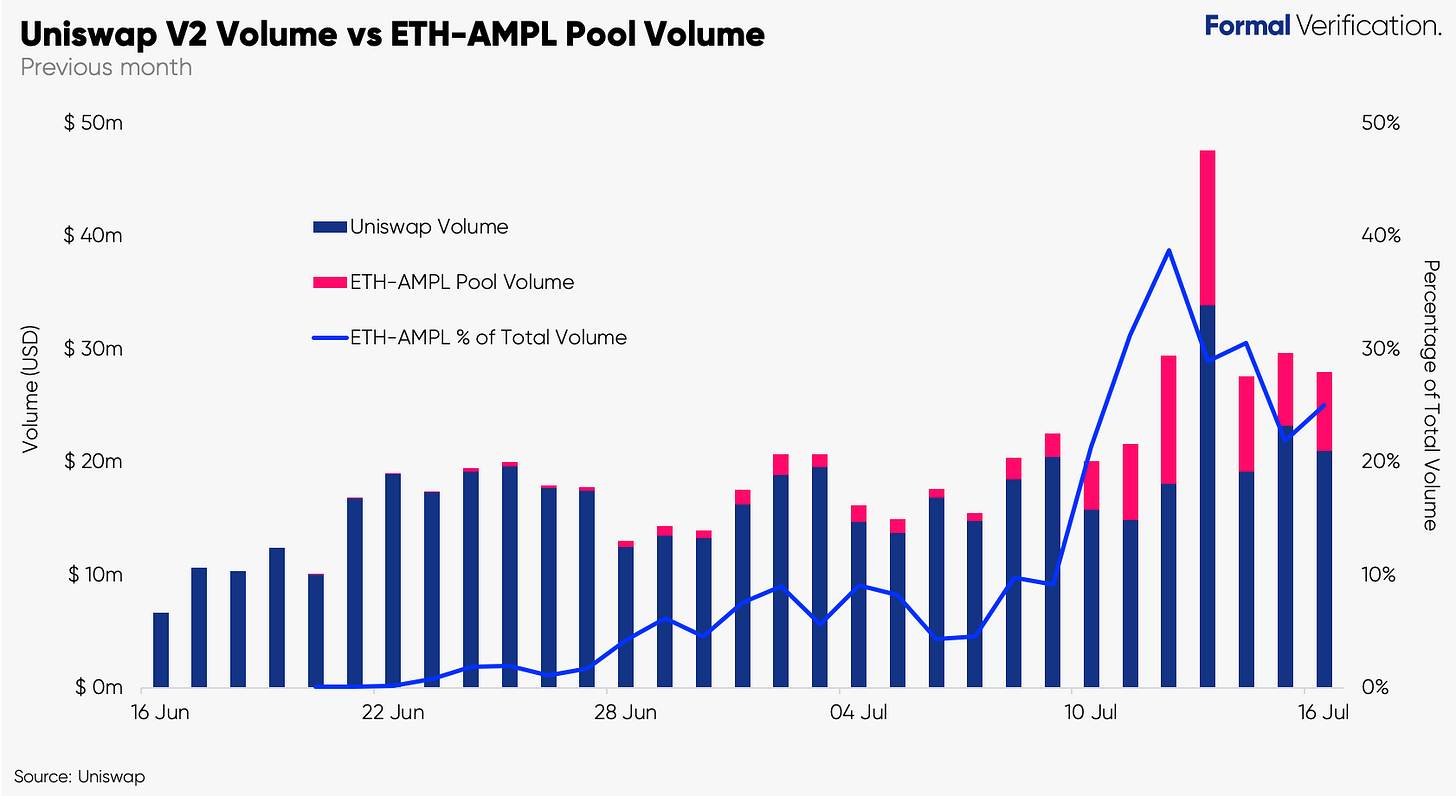 Cosmos

---
Help Build Decentralised Networks 🌍
Formally verified Web 3.0 roles are available for full Formal Verification members.
---
Formal Verification Deal Sheet 🤝
Formal Verification is proud to have partnered with some of the leading crypto companies. The deal sheet is now available to see for full Formal Verification members here.
---
About Formal Verification
Formal Verification offers both key and concise data analysis and ecosystem research for decentralised networks and digital assets so you can be attuned to the absolute key developments both on and off the chain.
Become a full Formal Verification member and receive complete research and member-only bonus content. Get full access for $10/month or $100/year.
Formal Verification research is not investment advice and is strictly for informational purposes only. Please conduct your own research.