In The Week
Balancer, 0x, Aragon, yEarn, dHedge
This Formal Verification research is free for everyone. Join the other Formal Verification members today and get full access to complete research and member-only bonus content.
---
Spotlight 🔎
Balancer
Balancer implements three new proposals that aim to optimise incentive mechanisms for its protocol.
The first proposal incentivises BAL liquidity on Balancer itself by allowing holders to contribute BAL to pools through the implementation of a new balFactor (set at 1.5). The second reduces the BAL reward penalty (feeFactor) for higher fee pools allowing for long-term pools to outpace impermanent loss that exists for smaller fee pools. The third proposal aims to reduce compensation for lower risk pairs (soft-pegged pairs like USDC and mUSD) in order to attract more useful liquidity which can drive trading demand. The proposals were voted with 300k BAL which equates to 35% of the total BAL distributed so far.
The Formally Verified Take
While these proposals still rely on the distribution of BAL rewards (which cannot last forever), they nonetheless push towards a more sustainable path for Balancer's long-term network growth or as Placeholder described it this week - 'a recurring model of value capture' that moves away from yield farming activities.
By creating a new incentive layer for BAL holders to contribute back to the protocol, the balFactor generates a positive feedback loop where yield farmers are more strongly tied to the success of Balancer as a platform. Of course, the other benefit of encouraging further BAL pool contributions is the potential for new BAL holders to become accumulators through other liquidity mining initiatives that bootstrap their respective networks using BAL.
Incorporating a wrapFactor for soft-pegged pairs is a sensible move if we consider the difference in design between Balancer and exchanges, like Curve, which implements a stablecoin tailored price curve. The liquidity composition on Balancer is skewed so heavily to soft-pegged assets that trading activity is much lower to Uniswap's V2 relative to both exchange's liquidity - at the time of writing, Balancer has 3x the liquidity but only 32% of the 24hr volume.
While it is too early to say what the long-term effects are of the proposals (and their set parameters), Balancer has just had its largest net outflow today ($34 million). Conversely, daily trading volume has increased significantly in the days post vote often reaching ~$15 million although a large portion of this are inflows into the DAI-YFI pool.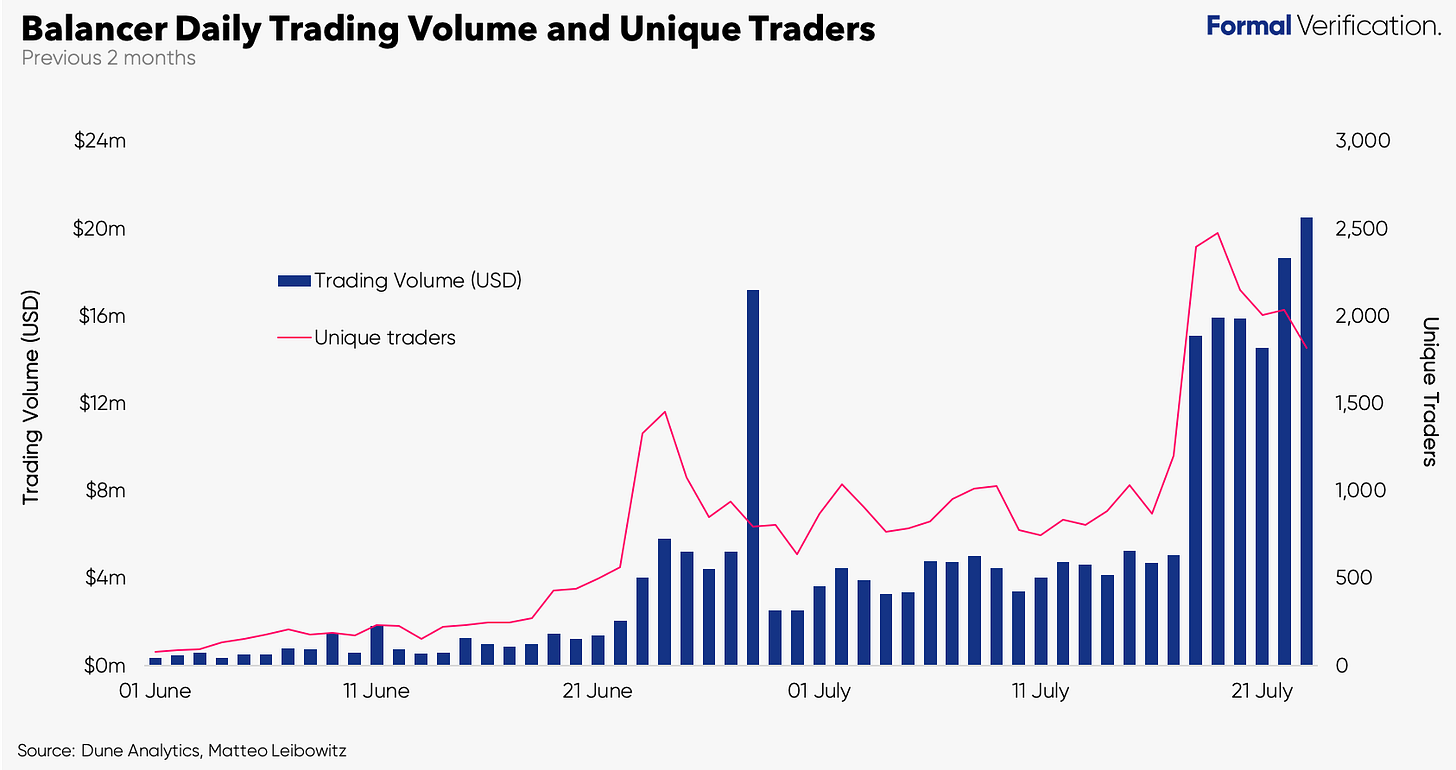 Furthermore, BAL now represents 8% of the total liquidity contributed to the platform by LPs. Over time, this will be a key metric to track to quantify how successful the balFactor is in aligning BAL holders to the protocol. The important thing here is that these proposals can be fine tuned by being incrementally lowered or increased.
This may particularly be the case, for example, with the wrapFactor which at 0.7 may prove to be still too high in order to move liquidity away from soft-pegged pools and into more volatile pairs.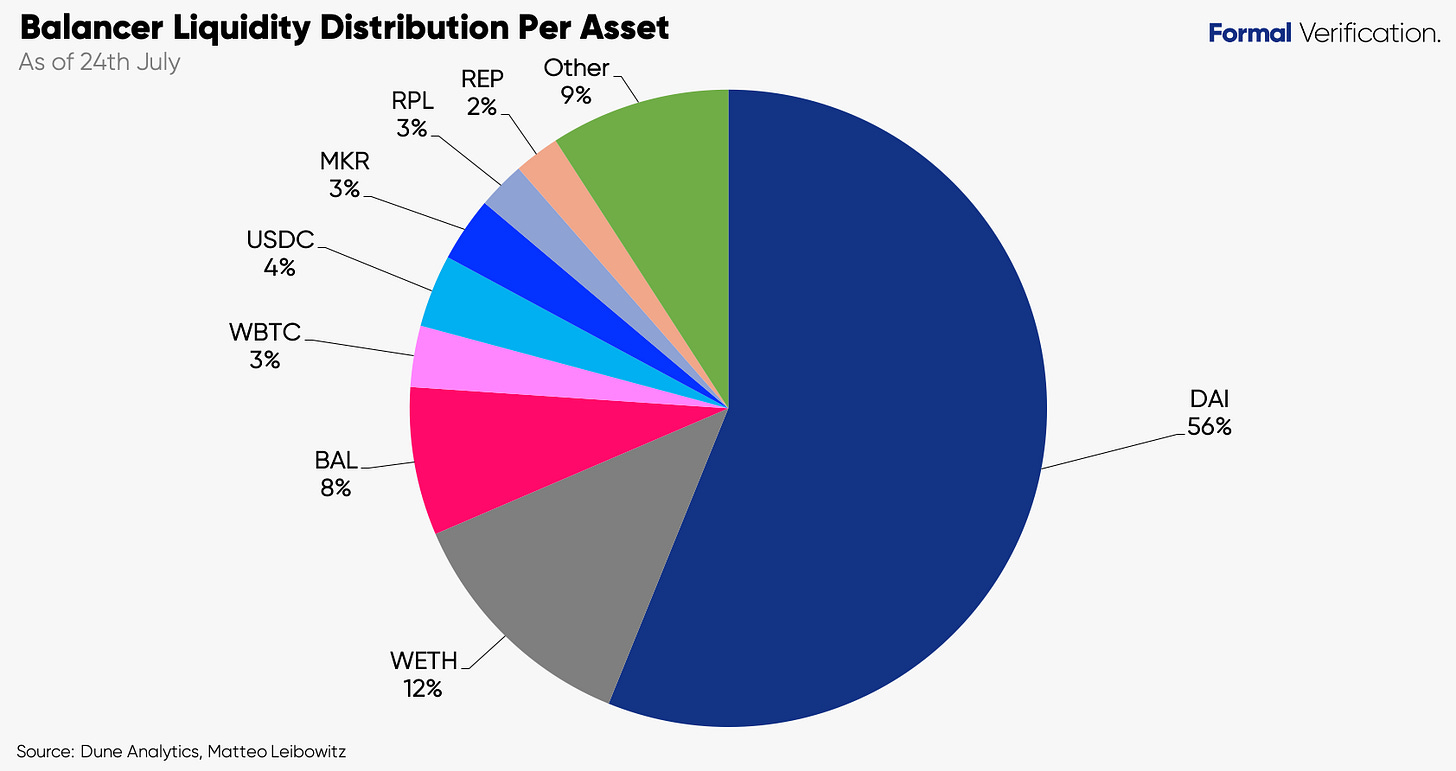 Quick Takes ⚡️
0x
0x lowers protocol fees by 50% with ZEIP-79.
The 0x community voted to reduce the protocol fee multiplier from 150k to 70k earlier this month, with the change being effective from epoch 28 (18th July). The lowering of the fee was discussed as a response to the increased average gas price for Ethereum over the last 3 months and MMs not adjusting their pricing in response. The overall goal is to encourage further adoption of the 0x V3 protocol that will in turn create further value for MMs (and delegated ZRX stakers) by creating a more attractive overall environment for traders.
The Formally Verified Take
At the time of the 0x V3 launch, typical gas prices were lower than seen today (~8 Gwei) as well as ETH prices being ~165. As a refresher, the USD protocol fee for 0x V3 equates to:
Protocol Fee in USD = (fee constant)*(gas price)*(ETH USD Price)
Protocol fees on 0x were often around $0.20 at the time of launch but, given the rise in both gas prices and ETH, these fees are now reaching as high as $1.50. There is also evidence that suggests higher gas prices deters trading volume, and in some cases, encourages trading activity on cheaper venues. You can think of this as demand elasticity. The orange line in the graph below shows the difference in trades between Uniswap and Kyber (where a higher value means a higher number of trades on Uniswap relative to Kyber). The blue line is gas price. For context, Kyber has a 5x higher gas requirement.
What is clear is that there is a correlation between higher gas prices and Uniswap trading share with Kyber.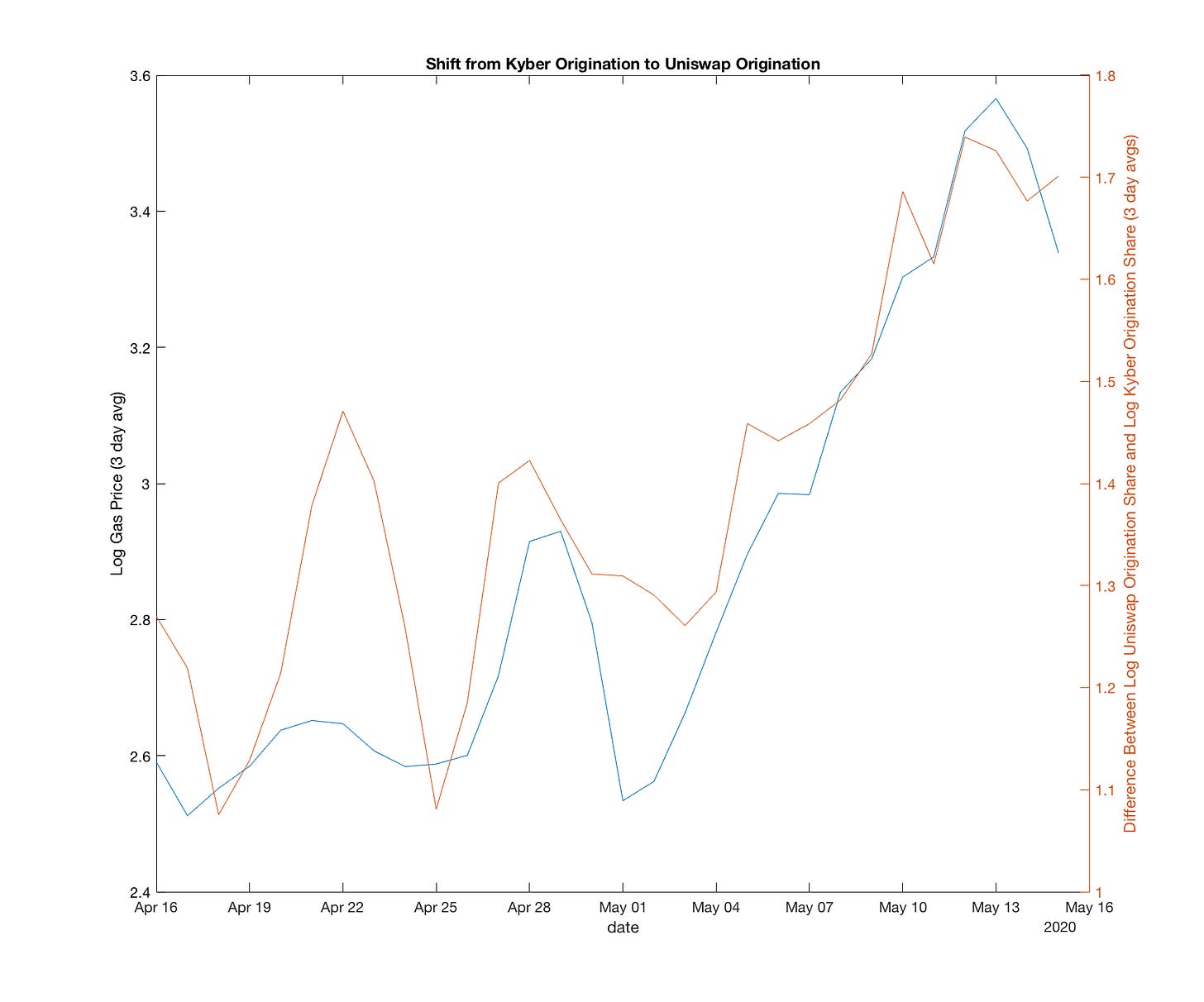 In theory, the reduction in protocol fees will create a cheaper trading environment for Matcha - 0x's in-house DEX offering which has seen $23m in volume (not including volume filled through 0x API on Matcha) since its launch late June. One of the concerns here is that the reduction in protocol fees also comes at a time when FillNonNative Transformer (WIP) is also being implemented at the end of July.
This transformer re-routes onchain liquidity from bridges (e.g. Curve, Kyber), bypassing the V3 exchange meanings no protocol fees are charged for these trades. There is therefore a real risk that ETH rewards funnelled to MMs (and their respective ZRX delegators) are being cut even further. This cannot be emphasised enough - the protocol will need sufficient native V3 orders to align incentives for the supply side.
Aragon

---
Help Build Decentralised Networks 🌍
Formally verified Web 3.0 roles are available for full Formal Verification members.
---
Formal Verification Deal Sheet 🤝
Formal Verification is proud to have partnered with some of the leading crypto companies. The deal sheet is now available to see for full Formal Verification members here.
---
About Formal Verification
Formal Verification offers both key and concise data analysis and ecosystem research for decentralised networks and digital assets so you can be attuned to the absolute key developments both on and off the chain.
Become a full Formal Verification member and receive complete research and member-only bonus content. Get full access for $10/month or $100/year.
Formal Verification research is not investment advice and is strictly for informational purposes only. Please conduct your own research.