In The Network - Aragon
DAO Trends, Aragon Court, ANJ
You're on the free list for Formal Verification research. Join the other Formal Verification members today and receive complete research and member-only bonus content.
---
Aragon
Decentralised autonomous organisations (DAOs) come in many different forms. While most of the energy surrounding DAOs recently has been protocol-specific (e.g. Compound and KyberDAO), Aragon is one of the prominent projects at the DAO infrastructure layer. Aragon received wide attention earlier this year with increased interest from notable venture capitalist, Tim Draper, the launch of Aragon Court, the release of Aragon Connect, and further details of Aragon's transition to its own PoS chain.
Aragon DAO Trends
Over 1.4k DAOs have been created on the Aragon network since inception. After the number of dApps waned in mid-2019, the network received new interest towards the end of the year as the introduction of DAO templates meant there was greater flexibility on what kind of DAOs could be created. However, there have only been 93 organisations that have been created on the network in the last two months but it is not exactly clear as to why this is the case (the ongoing legal dispute between Aragon vs Autark might be playing a role).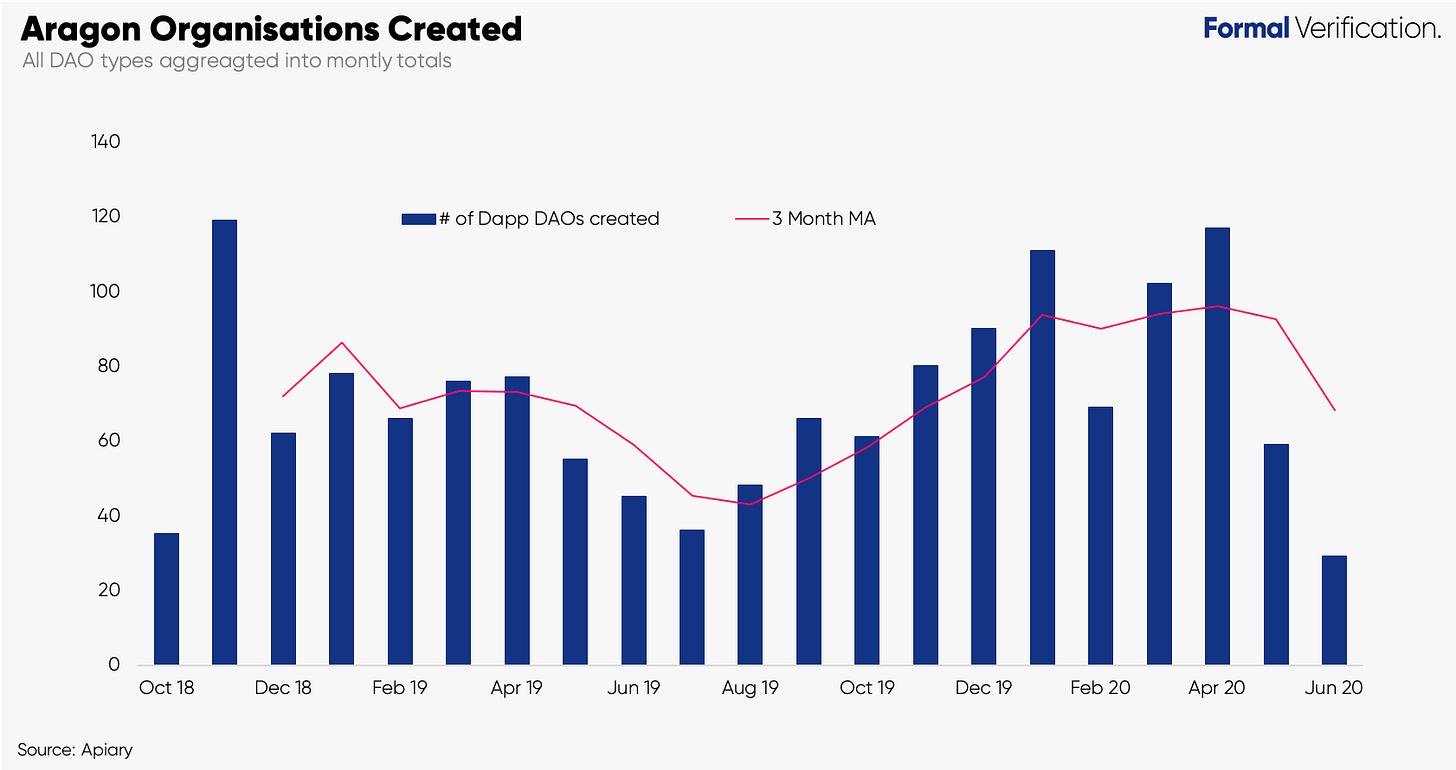 As briefly mentioned above, one of the USPs of the Aragon platform is that it provides a pre-defined selection of templates for users or groups when they set-up their DAOs. Specifically, templates allow the creation of DAOs to be compiled into just one transaction eliminating the need to set up numerous manual (and more expensive) transactions.
Up until mid-2019, most of the DAOs were structured as companies (i.e. DAOs with transferable tokens that represent ownership stake in the organisation) with the others being multisig set ups. Since the introduction of these templates, there is now a greater diversity in the types of DAOs being set up with Membership and Open Enterprise DAOs being some of the most popular being created recently.
This highlights a greater desire from individuals and groups to have rich functionality with their DAOs that are more likely to accommodate their needs. Aragon's upcoming Hack for Freedom reflects this sentiment, with Expert DAOs, social DAOs, and other complex structures being on the list of things to be built.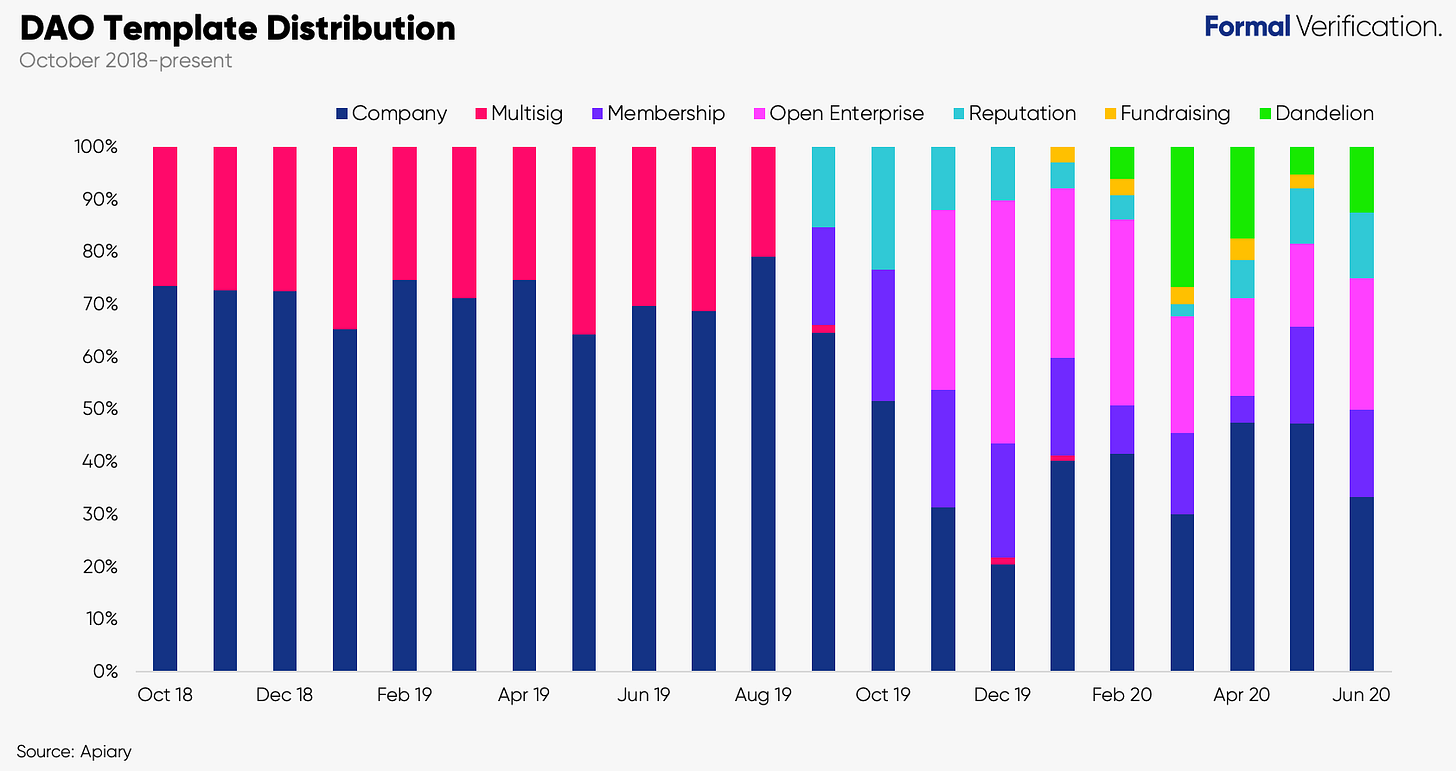 Although there is customisability at the DAO level, there is also customisability with regards to the apps that can be integrated in each DAO. Perhaps not surprisingly, the top apps installed are Finance (being able to manage financial assets), and tokens (manage the DAOs token supply and distribution). To attain a richer perspective beyond installation count, we can also rank their integrations based on an index score of DAOs using them (i.e. AUM and rate of activity for each DAO).
A notable addition in early 2019 was Aragon Agent which allows any DAO to connect to any smart contract deployed on Ethereum. Deploying Agent to a DAO, for example, would allow members of an organisation to lend out their ETH holdings on Compound or open a debt position on MakerDAO. While only being the 5th most installed app (311 installations), the relatively high score for the Argent app shows that it is used by some of the larger and active DAOs.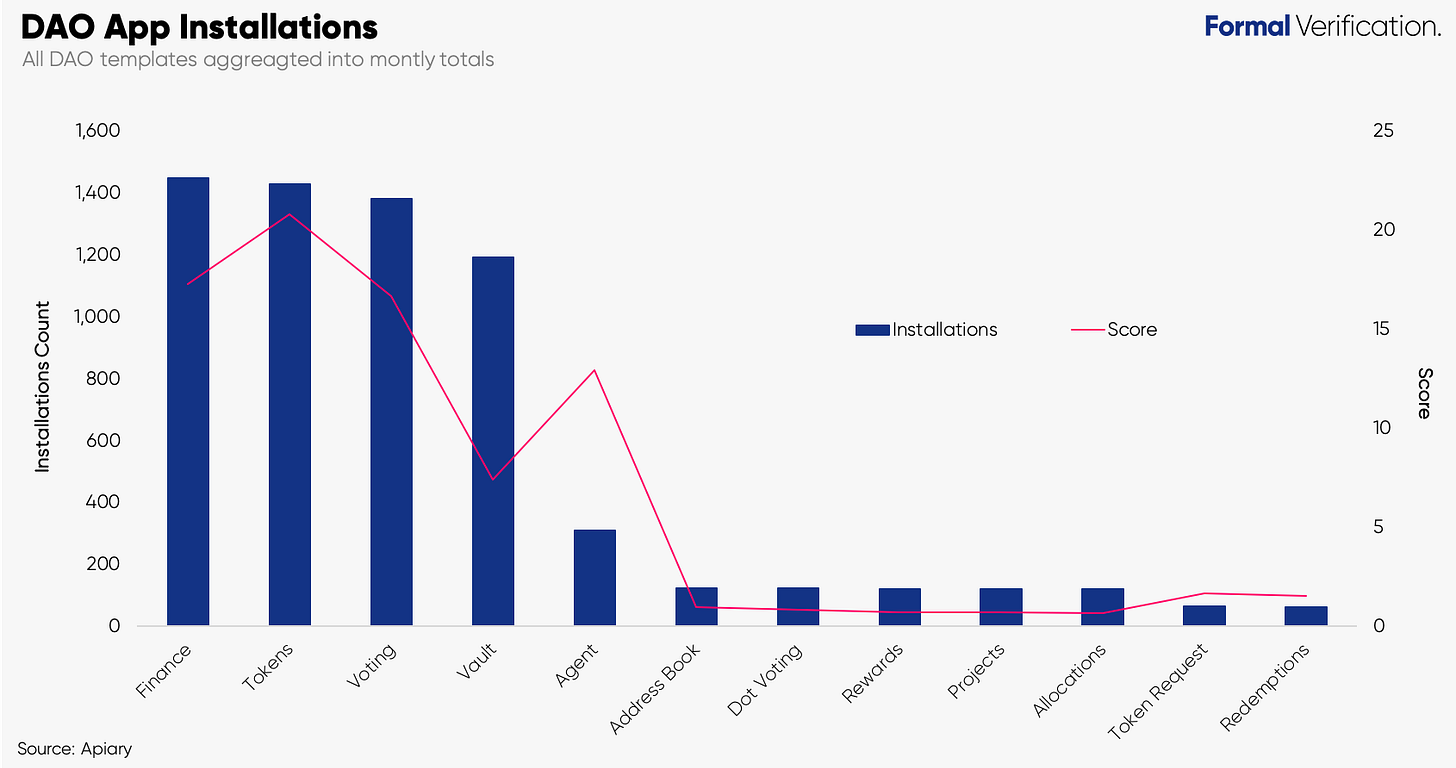 While the growth in the number of DAOs being created is important, how active they become is equally key for determining how effective Aragon's overall tooling is. Organisation activity peaked locally during April 2019 during the Aragon Network Vote #2 which covered many significant governance proposals. For most of 2020, we have now started to see somewhat of a baseline of activity (10 daily) with peaks also generally higher than that seen throughout 2019 which is likely driven by both the growing number of DAOs as well as richer app functionality on the platform.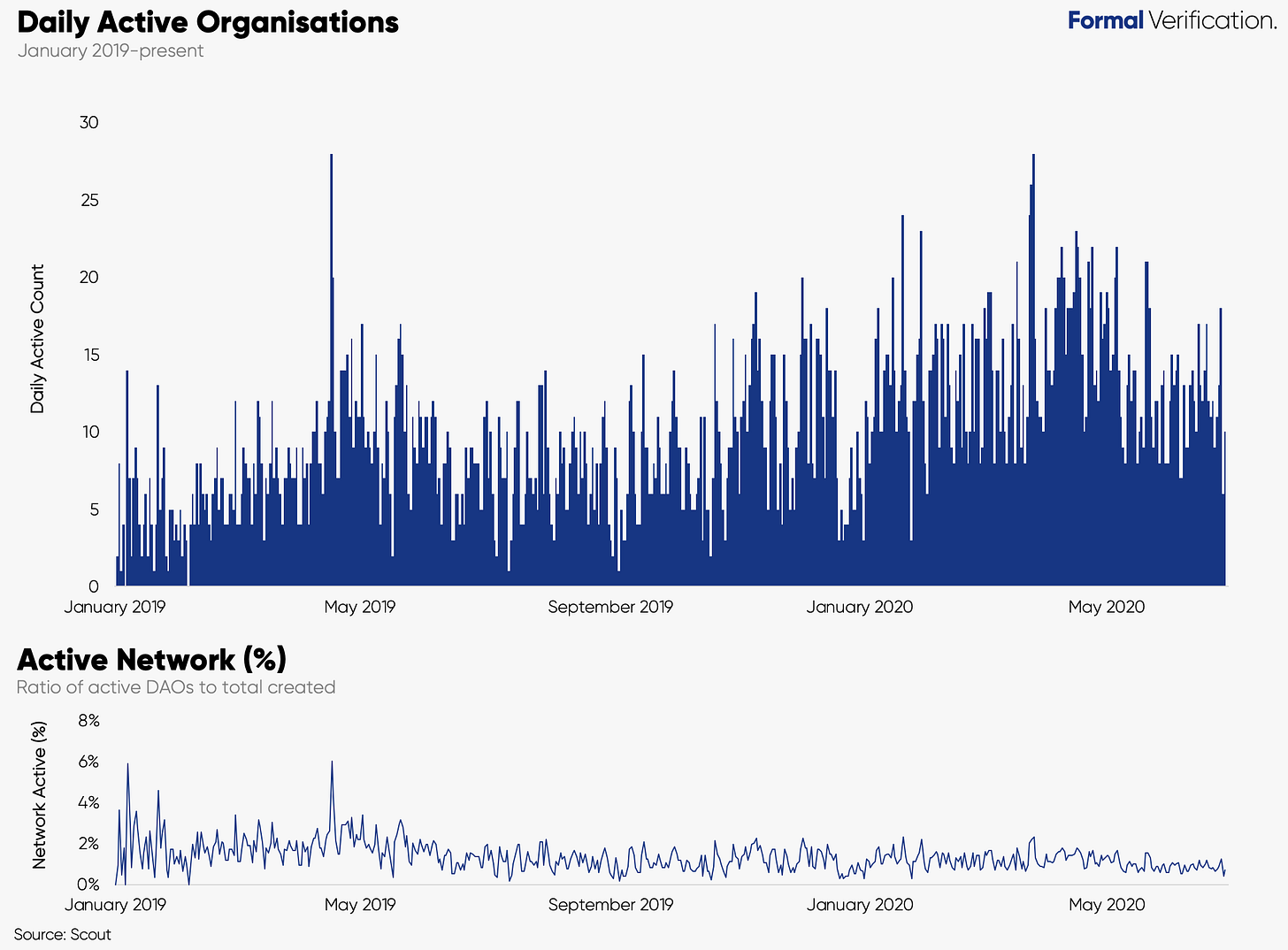 By taking the active DAOs relative to cumulative DAOs created at time t, we can create an active network ratio and visualise this over time. The rate of newly created DAOs continues to outpace any rise in daily DAO activity which is shown by the ratio being suppressed below 2% for most of the last year. Critically, with the recent launch of Aragon Connect, users are now able to bridge their Aragon DAO within any dApp (and thus their users). Encouraging Aragon DAO composability through tools like Connect might eventually lead to a greater portion of total DAOs to become active on a daily basis.
Aragon Court
Earlier this year, Aragon released their first iteration of Aragon Court - a distributed court system that incentivises participants to arbitrate disputes amongst Aragon DAO members. Today, Jurors have to buy and stake a minimum of 10k ANJ (~$180) in order to be selected. Individuals that have a greater amount of ANJ are more likely to be drafted in than those with smaller balances. Critically, the price of ANJ is set on a bonding curve - as more assets are used to buy ANJ, fewer new ANJ will be released back to the sender. In terms of ANJ value flows, the cryptoasset's upside potential is directly related to the fees that flow to the Jurors through the court system.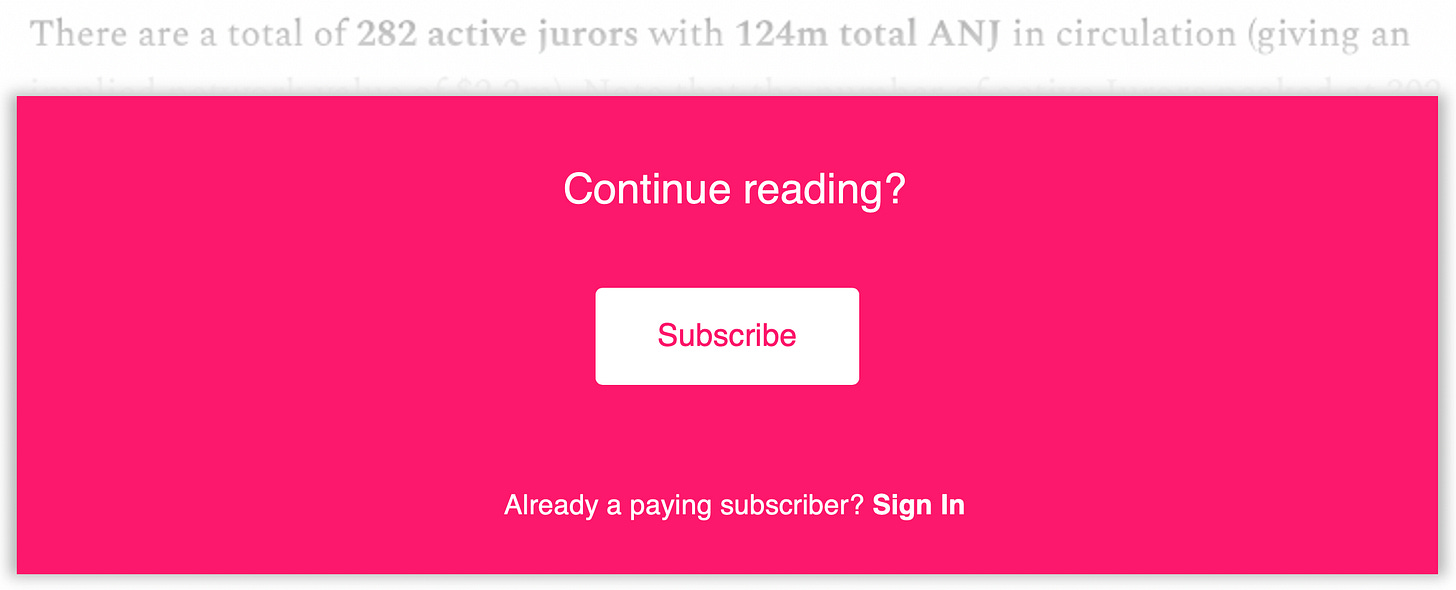 ---
About Formal Verification
Institutional-grade digital asset research
Formal Verification offers both key and concise data analysis and ecosystem research for decentralised networks and digital assets so you can be attuned to the absolute key developments both on and off the chain.
Become a full Formal Verification member and receive complete research and member-only bonus content. Get full access for $10/month or $100/year.
Formal Verification research is not investment advice and is strictly for informational purposes only. Please conduct your own research.